Quince butter is a soft, delicious and piquant jam like spread for bread or to pair with cheese. It is a bit of a job to make, but it is so fantastic that I am planing to do it again this year. It does take quite a bit of work, but it is worth it!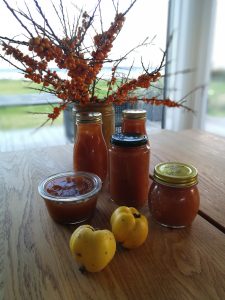 I found this recipe last year when one of my mom's friends brought over a huge plastic bag of pear quinces. I had not really worked with quince before, but I found this amazing recipe at syltedronningen.dk (full credit to her). She describes the recipe as magical and I must agree, the finished taste is just so lovely!
In Denmark quinces are kind of an old fashioned fruit, something to be found in old orchards and gardens, but not something you buy at the store. But they are amazing fruits, with such a delicate taste, that is unlike anything else. They are not really eatable raw, but they are amazing in preserves. I also made a small jar of pickled quince, that turned out to be really yummy. I love making preserves – it is so relaxing but also exciting – and I feel very self-sufficient.