At the marked we shared dinner with our friends who let us into their camp, so I cooked for us. I had some leftover meat pies from lunch and had brought some lamb sausages (which were sadly really greasy). To supplement that I cooked a medieval inspired vegetable soup.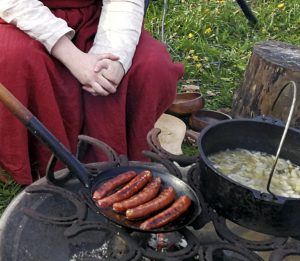 For the pies I had pouched some chick and saved the cooking water, I used that as stock, but I am pretty sure it would have worked fine without it. You can of course cook this at the stove top, but it is a perfect campfire dish.
I chose the vegetable to be in season and all of which would have been available in the medieval Denmark. If you have any spring herbs handy, I am sure they would work great, but we were too tired to forge this evening.
The soup was tasty and filling