Jødekager
These cookies were developed by Jewish bakers in Copenhagen in the 1800's at some point. They are part of the Danish Christmas cookie pantheon. If you ask most of my family they are the best part.
They became popular among the other new cookies when the wood stove was introduced in the second half og the 1800's and it became possible to make cookies, in your own kitchen no less.
My mom's version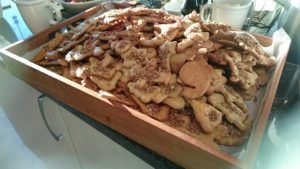 This version is my family's recipe but I have also found two old ones. I am not sure where my mom got it, but it is her recipe.
The cookies are really tasty but they are fiddlely to make. We always use cookie cutters for them but they are not actually very suitable for them, as the dough is kind of fragile. We tend to need to add more flour than the recipe calls for and it is a really good idea to keep the dough cool while working with it. You can just roll it to a thick sausage and cut 3 mm slices off it and add the topping. But my sister would not be happy with you.
Madam Mangor's recipes, 1890
And I have also found a version of the cakes in "Madam Mangor's Kogebog" from 1890 where there are two recipes for "jødekager". These doesn't look to be what we today would think of as jødekager but rather a different cookie. Click on the individual recipes to read the original Danish recipe.
This recipe however is very close to the modern version of the cookie. Many people bake them in this shape with half an almond on top.
If you are interested Madam Sif has more recipes at her blog, among them one from 1859.